Seaboard Triumph Foods pork plant now opening late summer
Seaboard Triumph Foods pork plant now opening late summer
Original timeline planned for July 2017 opening.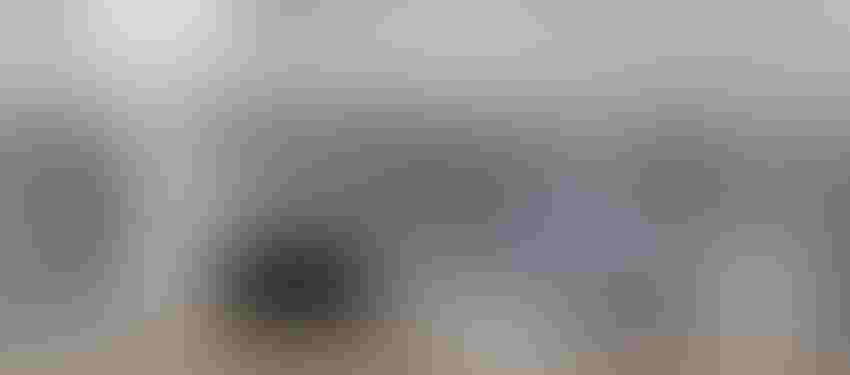 Much of the hog industry market discussions during the 2017 World Pork Expo, held last week in Des Moines, Iowa, centered on the new pork processing plants coming on line during late summer that will help alleviate fall hog slaughter capacity issues.
In fact, this was so much the case that Seaboard Foods and Triumph Foods held a press conference to discuss their new joint venture, the Seaboard Triumph Foods fresh pork processing facility in Sioux City, Iowa. Executives from all three companies provided an update on the construction progress as well as provided details on plant features, capacity, sourcing and the workforce.
"We're drawing close. The plant is fully closed in, the majority of the equipment is installed and we're moving very rapidly into the phase where we start to test equipment, turn on permanent power and prepare ourselves for operations," said Mark Porter, chief executive officer of Seaboard Triumph Foods. "We are planning to begin operations here no later than the first part of September. That's our goal to begin the (ramp-up)."
The plant doesn't intend to come up full speed that first week, he added, emphasizing the need for a safe, methodical beginning of operations.
According to Mark Campbell, president and CEO of Triumph Foods, the new state-of the-art plant draws upon the lessons learned from the development and operation of the Seaboard plant in Guymon, Okla., which opened in December 1995, and the Triumph Foods plant in St. Joseph, Mo., which opened in January 2006.
"As many of you know, the scale of this project is immense," he said of the Sioux City plant. "It occupies 110 acres in its totality. We also have an additional 75 acres that are undeveloped, which we have for future growth."
Campbell continued, "At over 925,000 sq. ft. of floor space and costing in excess of $300 million, the plant is designed with capacity to process and fabricate more than 21,000 hogs per day into fresh pork cuts."
The plant features a sanitary design noticeable to all visitors, Campbell said. Additionally, robotics, automation and vision systems have also been incorporated into the design.
"There is an attribute-driven carcass sortation system designed to enable product segregation for unique customer demands and expectations and defatting, deboning and sizing for virtually 100% of all of the primals that come out of the pig," he said.
An 18 million lb. freezer is attached to plant to support the growing needs of the company's export customers, Campbell said, as well as 31 outbound shipping docks.
There is also a covered anaerobic pretreatment system with full methane recovery that will be used to fire the plants three large broilers, he added.
The Sioux City plant will produce a full line of fresh pork products that will be marketed and sold by Seaboard Foods. A large portion — 70% – of the company's products are sold domestically, while 30% are exported to more than 30 countries.
The plant initially will employ 1,100 people, accounting for $48 million in payroll. An additional 1,000 employees will be added when a second shift commences in the summer of 2018. The company said it is working on an innovative staffing strategy that works with the city, as well as other business leaders, to recruit local residents from all around the Sioux City and surrounding regions.
Once the local workforce pool is exhausted, Porter said they have been working with state offices to update Sioux City to a primary refugee resettlement location as it is currently a secondary refugee resettlement location. This essentially means that the primary refugee will come from abroad into the U.S. Porter said the company has also partnered with some staffing agencies and a law firm to explore the possibility of having a formal immigration directly into Sioux City from abroad.
"So, in other words, we've put together layers of staffing in terms of our strategy, and we're not done," Porter said. "We don't think these layers are the only layers that will work. We see it as a good starting point, and we will continue to explore as we continue to grow."
Hog sourcing
In terms of sourcing hogs, the Seaboard and Triumph parent companies will supply the majority of the hogs, but the company will also source from regional farmers who align with the company's quality expectations and genetic requirements.
Porter said the plan is for one-third of the hogs to be sourced from Seaboard, one-third to be sourced from Triumph and then one-third to be sourced from farmers. For now, the company said it is focusing on developing relationships specifically with producers in northwestern Iowa, northeastern Nebraska and southern Minnesota.
"We've been actively soliciting contracts for animals for the plant over the course of the last nine months," Porter said. "We have a nice share of them lined up. We don't have all of them yet, but we're happy with the progress we've made."
He said they will be competitive for a portion of their hogs, but unlike a lot of the other packers, Seaboard Triumph will have two-thirds from its own supply. Porter emphasized that "we will be in the market, rest assured. One question several people asked: What impact are you going to have on hog prices? Well, we're probably going to raise them."
Combined, the entire Seaboard and Triumph system comprises the second-largest hog producer and a top five U.S. pork processor.
Subscribe to Our Newsletters
Feedstuffs is the news source for animal agriculture
You May Also Like
---