INSIDE WASHINGTON: USDA undersecretaries come into spotlight
INSIDE WASHINGTON: USDA undersecretaries come into spotlight
Here's a detailed look at Trump's nominees Censky, McKinney, Clovis, Northey and Ibach ahead of nomination hearing on Tuesday.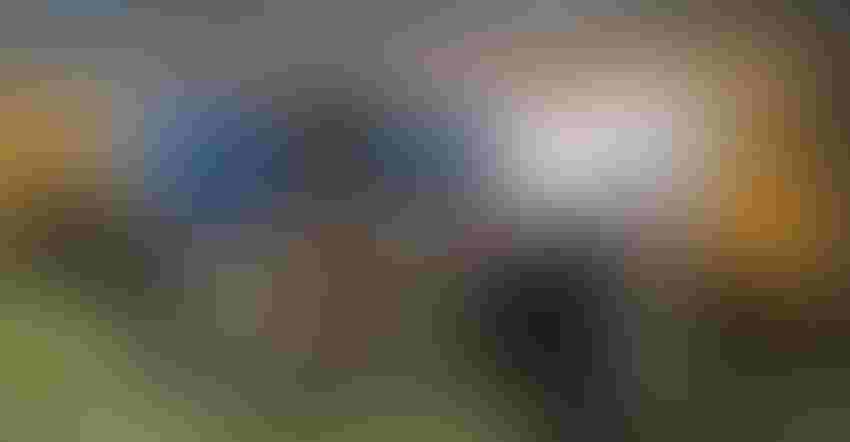 Secretary Sonny Perdue tours the Farm Progress Show, in Decatur, IL, on Aug 30, 2017. He's flanked by his future undersecretaries Bill Northey (second from the left) and Ted McKinney (third from the left).
USDA Photo by Lance Cheung
Secretary of Agriculture Sonny Perdue came into office in April, and despite President Donald Trump nominating several individuals to serve alongside Perdue, none of them have had nomination hearings or been confirmed by the Senate. That could be changing soon.
The Senate Agriculture Committee has scheduled a nomination hearing Tuesday morning for U.S. Department of Agriculture deputy secretary Steve Censky and trade undersecretary Ted McKinney. Left off the list is controversial chief scientist nominee Sam Clovis -- who was part of Trump's agriculture team during the election and USDA's transition team -- likely due to concerns raised by Senate Democrats.
The appointments of Iowa secretary of agriculture Bill Northey as USDA's first undersecretary for farm production and conservation and Nebraska director of agriculture Greg Ibach as undersecretary for marketing and regulatory programs were made ahead of the Labor Day weekend but were not included in the nomination hearing scheduled for Sept. 19. Committee members likely will need additional time to vet the nominees before a hearing is held.
Trump has made good on his promise to fill USDA posts with people who understand agriculture, especially as three have served in their states' respective agricultural departments. 
Perdue called it a "tragedy" that he is the only Senate-confirmed person at USDA so far. "There are a lot of mission areas I need help in leadership there," he said at the end of August at the Farm Progress Show.
DEPUTY UNDERSECRETARY: Censky, who formally was nominated for the number-two USDA post in July, was first reported as the front runner for the job in May. Censky currently serves as chief executive officer of the American Soybean Assn. (ASA) and has been a mainstay in Washington, D.C., for decades, with 21 years at the helm of ASA.
Prior to ASA, Censky served at USDA in the Ronald Reagan and George H.W. Bush administrations, including as administrator of the Foreign Agricultural Service.
Censky has many strong attributes that are likely to find him favor among those on the Senate Agriculture Committee, including his upbringing on a soybean, corn and diversified livestock farm in Minnesota, as an aggressive advocate for farmers and as a supporter of international trade and crop insurance.
TRADE UNDERSECRETARY: McKinney is expected to be easily confirmed by the Senate Agriculture Committee for a post that was newly created when Perdue offered his reorganization plan and as called for under the 2014 farm bill.
Nearly 100 agricultural groups and agribusinesses wrote Senate agriculture leaders a letter of support for his nomination. McKinney, who grew up on a farm, also led the Indiana Department of Agriculture and has an agricultural degree from Purdue University.
"The arc of his career, including issues management experience in crop and animal agriculture in the United States and around the world for innovative agribusiness, means that Ted is the best candidate for this important role at USDA," the groups state in the letter.
Nearly 50 cattle groups signed onto a letter urging for quick consideration of McKinney, saying, "As the director of the Indiana State Department of Agriculture, Ted has shown his passion and commitment for farmers and ranchers. His experience in the private sector adds to his experience and expertise. In particular, his participation in the U.S. Meat Export Federation gave him firsthand exposure to the challenges we see in agricultural trade."
CHIEF SCIENTIST: Clovis, who currently serves as a USDA liaison to the White House, was officially named the undersecretary for research, economics and education. He chaired Trump's Agricultural Advisory team and has held a prominent role in the first months of Trump's presidency.
Upon Clovis' nomination, Perdue said he was one of the first people through the door at USDA and has "become a trusted advisor and steady hand." Perdue added, "He looks at every problem with a critical eye, relying on sound science and data, and will be the facilitator and integrator we need."
However, a petition began circulating in August urging senators to reject Clovis' nomination, and Senate Agriculture Committee ranking member Debbie Stabenow (D., Mich.) has even asked Trump to withdraw Clovis' nomination.
"The USDA head scientist is essentially the head of food policy using a scientific lens. While Mr. Clovis may hold a degree in economics, he does not meet the mandated description as a distinguished scientist with agricultural experience," said Monica Mills, executive director of Food Policy Action. "He is a former talk-show host who advocated alt-right views about President (Barack) Obama, people of color and the LGBTQ community. Clovis's only connection to food and agriculture seems to be that he grew up in Iowa."
FARM PRODUCTION & CONSERVATION UNDERSECETARY: Northey was the expected nominee for the newly created position that largely will oversee all farm and conservation programs directly involving farmers. In his new role as USDA undersecretary of farm production and conservation, Northey will oversee the Farm Service Agency, Risk Management Agency and Natural Resources Conservation Service.
Northey, a fourth-generation farmer, has been an outspoken proponent of expanding voluntary conservation efforts in his home state of Iowa as well as promoting science and technology-based solutions. Throughout his career, he has been a leader in a variety of agricultural groups, including serving as president of the Iowa Corn Growers Assn. in 1991-92 and as president and chairman of the National Corn Growers Assn. (NCGA) in 1995-97.
"Bill has always been both an open book and an open door to farmers. His accessibility and transparency as an advocate for farmers is something that will make him an excellent member of the team at USDA," said Keota, Iowa, farmer John Heisdorffer and ASA vice president.
NCGA president Wesley Spurlock stated that Northey's "roots in production agriculture run deep. He will give farmers and ranchers a senior-level voice on important issues such as risk management and conservation programs, especially as we craft the next farm bill."
MARKETING AND REGULATORY UNDERSECRETARY: Ibach began his service as director of the Nebraska Department of Agriculture in June 2005, receiving the appointment from Gov. Dave Heineman after spending six-and-a-half years in the assistant director role. In addition to his director duties, with the help of his family, he continues to maintain a cow/calf and grain operation near Sumner in central Nebraska. Prior to starting his that operation, Ibach worked for Farm Credit Services.
ASA director Ken Boswell, who farms in Shickley, Neb., praised Ibach, saying he's "a person that understands very well how different agricultural issues connect -- how row crop farmers rely on the livestock industry and how everyone in agriculture depends on consumers both at home and abroad. That understanding will serve him and all of us very well."
Subscribe to Our Newsletters
Feedstuffs is the news source for animal agriculture
You May Also Like
---