Ag groups outline NAFTA priorities
Ag groups outline NAFTA priorities
Consistent theme from agricultural groups is desire to maintain existing market access and build off TPP agreement.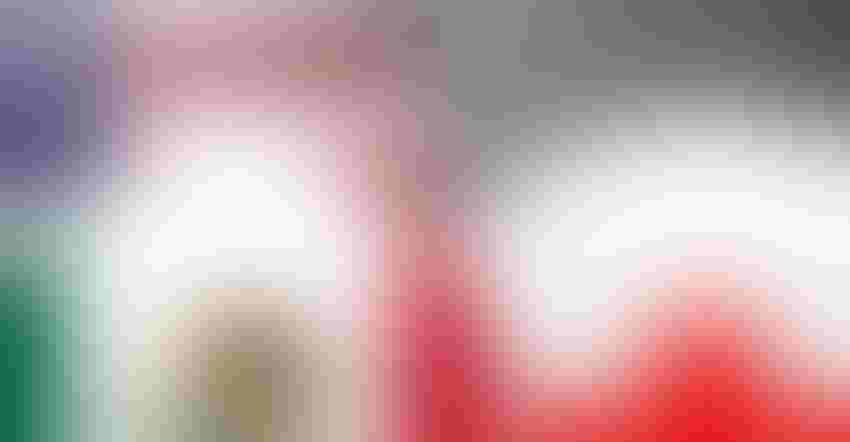 Agricultural groups were quick to point out the benefits of the North American Free Trade Agreement (NAFTA) in comments to the Trump Administration and U.S. Trade Representative Robert Lighthizer in response to a request for objectives in modernizing NAFTA.
A common thread among the comments was each industry's explanation of the gains already achieved via increasing U.S. agricultural exports to NAFTA trading partners and a desire to make sure those do not slip away.
Since NAFTA went into force, total U.S. agricultural exports to Canada and Mexico have more than quadrupled, growing from $8.9 billion in 1993 to $38 billion in 2016. Mexico and Canada combined now take 25% of all U.S. agricultural exports.
In comments, Wesley Spurlock, president of the National Corn Growers Assn., said, "A governing principle of this negotiation must be 'do no harm'; existing market access must remain intact and must not be undermined. Agriculture is often the first target for retaliation in response to disruptions to trading relationships."
Spurlock wrote that moving forward with trilateral -- rather than bilateral -- negotiations is "key to laying the foundation for a successful outcome." He stated that uncertainty over the U.S.'s commitment to remaining part of NAFTA has already affected the market, with Mexico considering importing more corn from Brazil and Argentina to ensure a stable supply.
The corn growers did request that the sanitary and phytosanitary (SPS) provisions from the Trans-Pacific Partnership (TPP) agreement be included in NAFTA, which would elevate the commitment to transparent and science-based standards.
Under a modernized NAFTA, the U.S. Biotech Crops Alliance requests that the U.S. government: (1) enter a mutual recognition agreement with Mexico and Canada on the safety determination of biotech crops intended for food and feed, and (2) develop a consistent approach to managing the low-level presence of products that have undergone a complete safety assessment and are approved for use in a third country (or countries) but not yet approved by a NAFTA member.
The American Feed Industry Assn. (AFIA) stated that there are opportunities to improve NAFTA, including in the areas of SPS measures, adopting consistent standards for animal health certification and other technical barriers to trade such as regulatory cooperation.
"Since NAFTA was implemented in 1994, animal food exports to Canada and Mexico have almost tripled, growing from $725 million in 1994 to $2.7 billion in 2016," AFIA president and chief executive officer Joel Newman explained.
U.S. pet food exports to Canada and Mexico alone represent more than 50% of total U.S. pet food exports. This success is a direct result of the tariff-free access the U.S. enjoys with Canada and Mexico, AFIA said.
The American Soybean Assn. (ASA), looking to support the animal agriculture sector that represents the largest buyer of U.S. soybean meal, included benchmarks in its suggestions to maintain the successful elements of the agreement with regard to dairy product entry into Mexico while targeting greater market access for poultry, egg and dairy product exports into Canada. ASA, too, requested that consistent standards be adopted for animal health certification, including full recognition of animal health status in each country.
Livestock and dairy comments
In joint comments sent to the USTR, the U.S. Dairy Export Council (USDEC) and the National Milk Producers Federation (NMPF) described the existing North American dairy landscape as one in which U.S. dairy products flow relatively unhindered to Mexico but are curtailed by Canada's increasing use of policy tools that violate international trade obligations.
Jim Mulhern, president and CEO of NMPF, said, "A modernized NAFTA agreement must preserve the open and dependable trade relationship with Mexico and remove remaining barriers to trade that were not adequately addressed in the original agreement."
The document's top request of the Trump Administration is for a "decisive confrontation and resolution" of non-tariff concerns, including the removal of Canada's milk pricing classes 6 and 7 and addressing Canadian dairy tariffs.
The industry's main concern for Mexico is protecting the ability to sell cheese with common names, like parmesan, gorgonzola, asiago and provolone. An aggressive, ongoing effort by the European Union to claim sole ownership of these cheeses must be rejected by Mexican and U.S. officials, according to comments from USDEC and NMPF.
The National Chicken Council (NCC), USA Poultry & Egg Export Council (USAPEEC), and the National Turkey Federation (NTF) considered the progress on poultry trade that had been envisioned in those preliminary TPP negotiations as potentially important components in modernizing NAFTA.
First, Canada and the United States had reached preliminary agreement on increasing the quotas for U.S. chicken into Canada. This would represent modest improvements in trade liberalization, but would not represent threats to current domestic policies or create market disruptions.  The U.S. industry also believes that there should be similar increases in the market access for U.S. turkey and turkey products.
Trade deficits
In public comments submitted to Lighthizer, National Farmers Union (NFU) president Roger Johnson highlighted what NFU views as shortcomings of the U.S.'s current free trade paradigm, citing its contribution to the massive U.S. trade deficit and abandonment of U.S. sovereignty -- to the detriment of farming and rural communities. He urged Lighthizer to use the NAFTA renegotiation as an opportunity to create a new fair trade framework for future trade deal negotiations. He also called for the Administration to restore country-of-origin labeling as one of the chief negotiation objectives for agriculture.
In his comments, Johnson stated that NFU has long been concerned with the nation's massive and persistent trade deficit that U.S. trade negotiators have failed to address in past discussions. In 2016, the U.S. accumulated a trade deficit of $502.3 billion, representing a 3% drag on the nation's gross domestic product.
"While agriculture typically maintains a trade surplus, which is beneficial, it represents less than 4% of the overall trade deficit," he added. "Unfortunately, in recent years, even the agricultural trade surplus has declined. Free trade agreements have not resulted in a stable, positive balance of trade for U.S. agriculture."
USTR is about a third of the way through a 90-day consultation period on the NAFTA renegotiation that was triggered last month when the Administration formally notified Congress of its intent to renegotiate the agreement.
Subscribe to Our Newsletters
Feedstuffs is the news source for animal agriculture
You May Also Like
---