Wool researched for roadside erosion control
Wool researched for roadside erosion control
Results indicated that wool erosion control blankets were better than industry standard in terms of establishing vegetation and preventing soil erosion.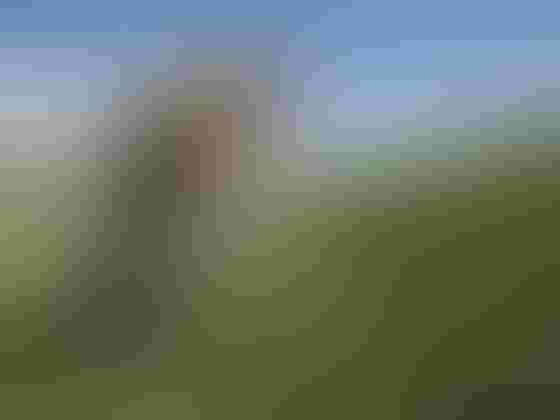 Rob Ament, a research scientist at the Western Transportation Institute, surveys native grasses at a research site along Highway 287 north of Three Forks, Mont. WTI has been working with Montana Department of Transportation to test thin wool batts that help establish vegetation on disturbed ground along roadways.
MSU Photo by Adrian Sanchez-Gonzalez
According to a Montana State University study, the stuff of socks, sweaters and high-tech underwear now has yet another use: revegetating roadsides to prevent erosion.
At a road cut along Highway 287 near Three Forks, Mont., healthy patches of native grasses are a testament to the lasting benefits of using wool, said Rob Ament, a research scientist at the Western Transportation Institute (WTI) in Montana State's Norm Asbjornson College of Engineering.
When Ament's research team began the project four years ago, they suspected that wool might have advantages over the straw and shredded coconut hull used in traditional erosion control blankets, which buffer slopes against sun and rain until seeds germinate and plants take hold. The results of the recently concluded study, however, surprised him, a Montana State announcement said.
"We were astonished by the vigorous plant growth," Ament said during a recent visit to the site.
At the square-meter plots that received erosion blankets made of wool blended with straw, the team observed three to four times more perennial grasses — a result Ament called "stunning."
Eli Cuelho, a former research engineer at WTI, also contributed to the project, as did Stuart Jennings and Monica Pokorny at KC Harvey Environmental, a Bozeman, Mont.-based consulting firm specializing in reclamation. Pokorny, who now works as a plant materials specialist at the Bozeman office of the Natural Resources Conservation Service, worked with Ament to develop the wool products and conduct the field trials.
Revegetating disturbed ground along roadsides is required by various laws to prevent takeover by noxious weeds and runoff of sediment, which can harm fish and other aquatic life, and it also contributes to the longevity of the roadbed by reducing pooling water, according to Phil Johnson, who oversaw roadside reclamation for Montana Department of Transportation for 25 years before retiring in 2017.
Prior to the experiment, the transportation department had seeded the road cut in a traditional manner with a seed drill. However, the plants on the exposed, west-facing slope had difficulty surviving, and the agency recommended the road cut for the experiment, according to Ament.
"We picked a really harsh site," Ament said. "We didn't want it to be easy."
Some erosion-preventing wool products were available internationally, he said, but were prohibitively expensive to ship and weren't designed specifically for revegetation. "We had to be creative and work with wool producers here in Montana," Ament said.
Ament and Pokorny worked with three Montana mills to produce shredded wool, which was then sent to a manufacturer in Minnesota with specialized equipment that could blend the wool with straw to produce the erosion blankets. The researchers then seeded the Highway 287 road cut with native grasses and laid down the wool erosion blankets side by side with various other erosion blankets. They observed the site periodically and measured the growth of the grasses over the course of three years.
"We don't know what mechanisms, exactly, give wool an advantage," Ament said. He suspects that the wool holds more moisture for a longer time period and that since wool is about 17% nitrogen, it likely has a fertilizing effect on the plants as it slowly biodegrades. Ament said wool also appears to adhere better to soil on steep embankments.
Johnson, who graduated from Montana State in 1978 with a bachelor's in range science, said he thought the results indicated that the wool erosion control blankets were better than the industry standard in terms of establishing vegetation and preventing soil erosion. "I think this really has a future," he said.
"There's a lot more opportunity for testing wool for erosion control," Pokorny added.
Montana ranked fifth in the nation for its wool crop in 2016, according to the Montana Wool Growers Assn. The state's ranchers produced 1.8 million lb. of wool valued at $3.42 million.
Ament noted that if wool were widely adopted for erosion control, it could support local manufacturing of the blankets as well as create a significant new market for Montana's wool growers, as low-grade wool that is otherwise discarded potentially could be used.
"There's a lot of wool that's not valued in the market that could be used for this," he said.
Subscribe to Our Newsletters
Feedstuffs is the news source for animal agriculture
You May Also Like
---