Skim milk an imitation dairy product? Say it ain't so
Skim milk an imitation dairy product? Say it ain't so
Maryland dairy farm files First Amendment suit against FDA milk labeling rule.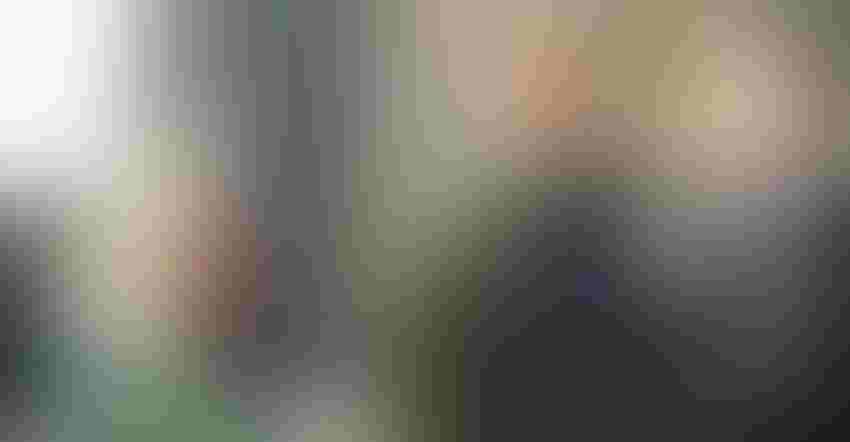 TAKING ON FDA: Karen and Randy Sowers, along with Institute of Justice senior attorney Justin Pearson (right), shared details of their lawsuit outside the federal courthouse.
On April 5, South Mountain Creamery of Middletown, Md., filed a First Amendment lawsuit against the U.S. Food and Drug Administration in U.S. District Court at Harrisburg, Pa. The suit challenges the constitutionality of FDA's labeling requirement that vitamins A and D must be added to their skim milk.
FDA requires pasteurized milk — any milk with less fat than whole milk — to have the "synthetic vitamins" to be marketed. Otherwise, it must be labeled as "imitation milk" or "imitation milk product," explains Justin Pearson, a senior attorney at the Institute for Justice.
The rule applies to any item sold across state lines that uses the word "milk" in the description. Failure to follow it risks $1,000 fines per violation and up to one year in jail, Pearson adds. The Institute for Justice is a national public advocacy law firm based in Arlington, Va., and is representing South Mountain Creamery in court.
The lawsuit was filed on behalf of Randy Sowers who, with his wife Karen, started dairy farming in 1981 and created South Mountain Creamery. Today, this Frederick County family-owned business has close to 5,000 home and business-delivery customers in Maryland, Pennsylvania, Virginia, West Virginia and Washington, D.C.
So why not just add vitamins A and D?
Sowers admits it doesn't cost much to do. "But we're in a competitive business, with more dairies marketing their own milk and dairy products," says the 1995 Mid-Atlantic Master Farmer. "We want to expand sales in Pennsylvania, marketing pure all-natural milk with no additives."
Since vitamins A and D are fat-soluble, a substantial portion dissipates by the time a consumer drinks the milk, Sowers says. Even the FDA's own official materials acknowledge this, he adds. But FDA still requires the vitamins to be labeled as skim, no-fat, 1% or 2%.
FDA already under fire
The recently approved federal omnibus bill included a provision directing FDA to act on mislabeled dairy imitations. But the targeted focus was on soy milk, almond milk, rice yogurt and other products.
Beth Bracizinski, vice president of dairy foods and nutrition at the National Milk Producers Federation, called the agency's inaction on food labeling a blatant disregard of names displayed on the labels of imitation dairy products — not milk itself. "We don't think Americans mistakenly believe soybeans and almonds have udders and produce 'lacteal secretions,' But NMPF argues consumers are misled into thinking these imitation beverages are nutritionally equivalent to dairy milk.
"The government doesn't have the power to change the meaning of words or ignore common sense," Pearson adds. "FDA is creating confusion where there was none whatsoever."
The Institute for Justice handled a similar case of a Florida-based dairy company that challenged a state law, not FDA regulations. Florida's ag department agreed to a label stating "Pasteurized skim milk, vitamins A & D removed with cream" after it lost the suit in March 2017.
Sowers says South Mountain Creamery would "happily" use any label that would allow it to clearly describe its skim milk without misleading consumers, such as one that reads "Pure pasteurized skim milk, no vitamins added or replaced, the only ingredient is skim milk."
Watch the Institute for Justice's Regulator: Milk is not milk video on the case.
Subscribe to Our Newsletters
Feedstuffs is the news source for animal agriculture
You May Also Like
---