Meat groups seek USDA oversight of 'fake meat'
Meat groups seek USDA oversight of 'fake meat'
During FDA public hearing, groups ask for level playing field and for USDA to oversee laboratory-produced meat.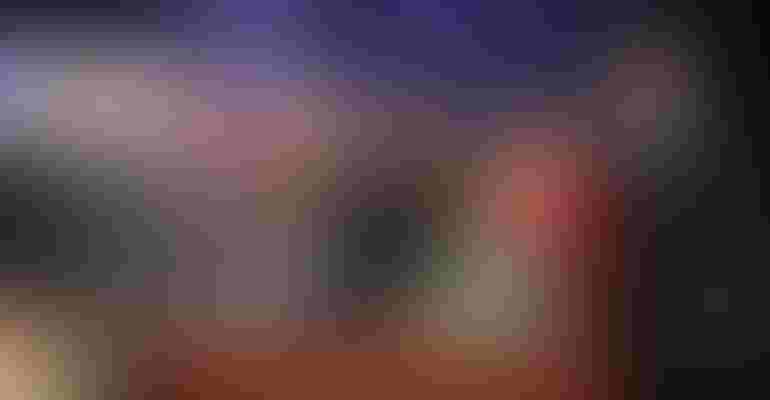 Secretary Perdue and Commissioner Gottlieb announce formal agreement at the White House on Jan. 30, 2018.
FDA USDA
The Food & Drug Administration held a public meeting Thursday to allow the public to provide comments related to the production of foods using animal cell culture technology. Both beef and pork producers testified at the hearing and said they prefer to have the U.S. Department of Agriculture oversee lab-grown meats.
However, despite existing federal laws that designate USDA as the primary oversight body of lab-grown fake meat, USDA was not afforded a role in the public meeting.
When FDA announced the meeting just weeks ago, USDA reiterated its position that, according to federal law, meat and poultry inspections are the sole purview of USDA, so the agency expected any product to be marketed as "meat" to be USDA's responsibility.
The National Pork Producers Council (NPPC) urged the Trump Administration to level the playing field by establishing regulatory authority over laboratory-produced cultured protein products with USDA's Food Safety & Inspection Service so these products will be required to comply with the same regulatory standards -- including continuous inspection, process controls, antemortem and postmortem inspection of source animals and other requirements -- as conventionally produced red meat and poultry products.
"While we know very little about the production methods of laboratory-produced cultured products, alternative protein companies are clearly working to present their products as real meat while seeking FDA oversight that would allow them to avoid rigorous inspection, labeling scrutiny and other regulations faced by livestock agriculture," said NPPC president Jim Heimerl, a pork producer from Johnstown, Ohio. "These companies – and their unsubstantiated claims about the sustainability, safety and ethics of their products – must be accountable to the same group that regulates the real meat they are striving to mimic."
Danielle Beck, director of government affairs for the National Cattlemen's Beef Assn. welcomed the pointed questions FDA posed to the public regarding risks, hazards and manufacturing methods of lab-grown meat food products.
"However, the appropriate agency to ask the questions under discussion today is the agency that will ultimately have jurisdiction over lab-grown meat food products," Beck said. "Any fair reading of the law places lab-grown meat food products within the primary jurisdiction of the USDA's Food Safety & Inspection Service."
Beck also explained why USDA jurisdiction is crucial for ensuring that lab-grown meat products are safe for consumers, noting that continuous inspection that draws on the scientific expertise of USDA's food safety service provides the most stringent oversight of any perishable meat food product.
"Critical food safety oversight objectives can only be accomplished if USDA complies with the law and asserts jurisdiction over cultured meat food products," Beck said.
Dairy industry concerns
At the FDA hearing, the National Milk Producers Federation (NMPF) noted that these rapidly evolving technologies affect dairy foods as well. Just as scientists have discovered how to make "meat" imitations look and feel like the real thing, they also have used genetically modified yeast to produce proteins that share a chemical identity with those found in milk.
FDA has asserted jurisdiction over products manufactured from cell culture technology, but Beth Briczinski, NMPF vice president for dairy foods and nutrition, warned that the agency's failure to enforce existing labeling standards is a major concern.
"For decades, manufacturers have been making fake milk and other imitation dairy beverages and inappropriately using the names of products on their labels that have clear FDA standards of identity," Briczinski said. "What began as a clever marketing tactic has led to the rampant abuse of legally defined dairy terms, while FDA has looked the other way. Most importantly, it has misled consumers over the nutritional composition of these products in comparison to traditional milk and its contributions to a healthy diet."
Gene editing potential
Despite the lack of any statutory requirement, FDA currently holds regulatory authority over gene editing in food-producing animals, NPPC said. Gene editing holds tremendous food safety and animal health and welfare promise for U.S. pork. It is an emerging innovation that allows simple changes to be made within a pig's native genetic structure without introducing genes from other species.
"As a result, an animal health breakthrough that will dramatically enhance animal care and food safety and support economic prosperity in rural America faces an impractical, lengthy and expensive approval process that will render it unavailable to American farmers while countries around the world realize its potential. FDA oversight will treat any gene-edited animal as a living animal drug – and every farm raising them a drug manufacturing facility – undermining U.S. agricultural competitiveness relative to other countries with more progressive gene editing regulatory policies," NPPC said.
NPPC urged the Trump Administration to move regulatory oversight of gene editing in animals from FDA to USDA's Animal & Plant Health Inspection Service, which already regulates gene editing in plants, as it can ensure a proper, risk-based regulatory review under the Animal Health Protection Act.
"It's deeply disturbing to U.S. pork producers to see the FDA adopt a Luddite-like regulatory approach that threatens the global competitiveness of U.S. agriculture," Heimerl said. "Commonsense regulations have helped make U.S. pork the global leader, and we can't afford to cede such an important innovation to the rest of the world."
Subscribe to Our Newsletters
Feedstuffs is the news source for animal agriculture
You May Also Like
---